C&I loans are those that are typically extended to partnerships, corporations, sole proprietorships and other business entities in order to finance specific needs. A few examples of common reasons that applicants might be interested in such loans include shoring up an uneven cash flow, providing working capital on a seasonal basis and financing the acquisition of inventory, capital assets or accounts receivable.
An array of community industries can be served by C&I loans including construction companies, service enterprises, retail trade companies and professionals such as physicians, attorneys, and accountants. With so many industry possibilities, there is much opportunity for community banks to integrate C&I in their lending programs.
The Case for C&I Loans
When compared to all types of loans, C&I lending currently comprises about 25% of the total. This makes such private-company credit one of the largest loan sectors in the country with $4.4 billion in loans for working capital, trade payables, and term loans. A new study recently detailed the potential net income banks can realize if they increased their C&I lending so that it more closely matches the 40% of the market it secured in 1950.
C&I Lending Equates to Elevated Returns
As the study highlighted, banks could have realized an additional $2.6 billion in income had they taken advantage of C&I loans in just the last eight years. In fact, when adjusted for risk, C&I lending is a top return business for financial institutions.
Of course, banks are required to perform a number of tasks before coming to a loan decision. The time and personnel it takes to perform each task, including credit application review, data entry, borrower financial evaluations, and necessary calculations, for example, can add up to nearly 100 hours of work per loan application. Without the right technology in place to streamline each step, it would be challenging for financial institutions to profit.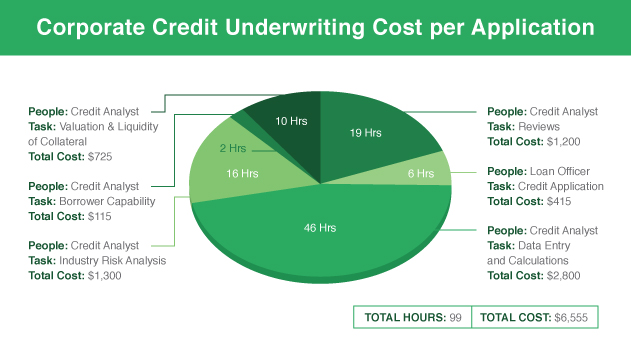 Using Technology to Mitigate Risk, Slash Underwriting Time
With the right technology in place, banks can reduce the time it takes to perform the necessary steps for C&I lending by over 50%. CLOUDecision Complete is an all-inclusive software solution for bank lending practices. Tailored customization options mean lenders can utilize one-click convenience to transfer data, review credit, and comply with management exceptions.
Risk management is automated during the entire application process, providing the necessary compliance and financial checks. In addition, loan officers can easily enable commercial loan servicing, perform credit analysis on business financials in seconds, and generate informative and accurate management reports with just a few clicks.
Is your bank ready to capitalize on revenue-generating C&I loans while minimizing the time and cost associated with underwriting and reviewing each loan? See the software in action by signing up for a free, 15-minute live demo of CLOUDecision today.