Banks across the US have indicated that improving efficiency and reducing spending are among the top operational priorities that need addressing. By investing in the right lending software, banks will be able to streamline operations, consolidate IT applications, and automate time-consuming processes.
Before choosing a commercial lending software for your bank, it's important to ask the right questions to ensure it can adapt to your specific analysis and reporting needs. Here's a look at several of the top questions our satisfied bank CEO's have asked about CLOUDecision.
Can I host CLOUDecision on my own server?
Certainly. CLOUDecision is a Software as a Solution (SaaS) product that is designed to provide cutting-edge financial analysis technology that is both robust and affordable. CLOUDecision uses cloud technology to help financial institutions become more nimble. However, for banks who want the capability to host on their own system, we can accommodate that as well.
Am I limited to a certain number of reports I can pull each month?
We never put a cap on the number of reports you can pull. In fact, CLOUDecision allows you to pull and access reports 24/7 via our cloud-based platform.
Does the platform update with new regulatory changes?
At CLOUDecision, we know how important it is to stay up-to-date on regulatory changes. All applicable changes are made immediately without disrupting your ability to use the platform.
What kinds of reports am I able to pull?
CLOUDecision provides users with the ability to generate more than 100 types of reports including: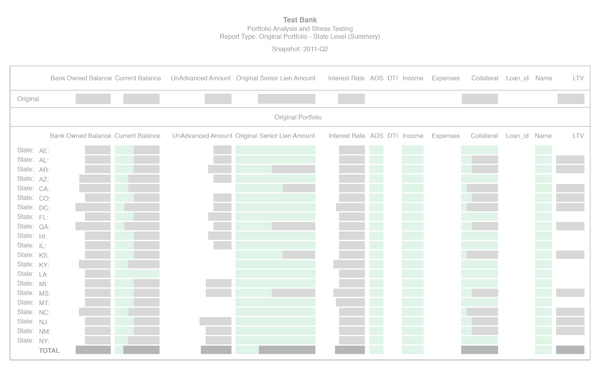 balance sheet

income statement


ratios

cash flows

reconciliations

personal returns

global cash flow coverage

credit memorandum

narratives

pipeline and respective A&D

small business

portfolio and risk management
Can I customize the platform?
CLOUDecision strives to provide flexible and affordable financial analysis software. Every facet of the platform — from types of reports to entry fields — can be customized to meet the exact needs of your bank.
How long does it take to import customer data?
The answer to this varies. While the typical import is easy and doesn't consume a lot of time, the larger the customer base, the more time consuming the import process will be.
Do I ever have to perform system updates?
Unlike legacy software, there is never any maintenance required on your end. Instead, our team handles updates behind the scenes. In fact, updates never affect your ability to access the platform to run the financial analysis and reports that are so crucial to your daily business.
How does CLOUDecision work?
Working with CLOUDecision is secure and intuitive. You simply launch an URL, login, do your work and logout. We do the rest including network, security, server, firewall backup, recovery and disaster recovery management.
I have 3 loan officers. Do they each have their own login or is it a shared account?
Yes. Each person is given a personal login which can be customized to match their job duties.
Cyber security is a big concern of mine. How do you keep the data protected?
CLOUDecision keeps your data protected and secure with a multi-prong approach that involves secure logins, encrypted data with secure communication and detailed access logs with pertinent information such as the IP addresses of users and the times in which they accessed the system.
CLOUDecision provides commercial marketplace and risk management solutions for financial institutions in an agile, cloud-based environment that is secure and affordable. For more information on our packages and individual products, contact us today.