Technology is becoming increasingly more prevalent in how businesses operate, and banking is no exception. Cloud-based financial lending software offers banks and credit unions much more flexibility, reliability, and agility – all while allowing them to cut costs at the same time.
SaaS, or "Software as a Service," is an emerging technology in the banking industry, in part due to its convenience and cost-effectiveness. Here are some major benefits of cloud-based commercial lending software:
Agile & Affordable
Unlike legacy hardwares and softwares installed on your computer, cloud-based financial systems allow you to access the information you need anytime and on any device. This allows you to get the clarity you need to make important financial decisions in a simple and easy-to-use format.

This graph shows the growth and expansion trends in traditional software and hardware versus cloud-based. As time goes by, traditional software costs more in the form of increased user licenses, consulting and training. For example:
Cloud systems, in comparison, reward your business' success. Even as rig counts go up, tiered discounts keep your company's costs to a minimum. As a result, we are able to provide pay-as-you-need services which on average saves our clients tens of thousands of dollars annually.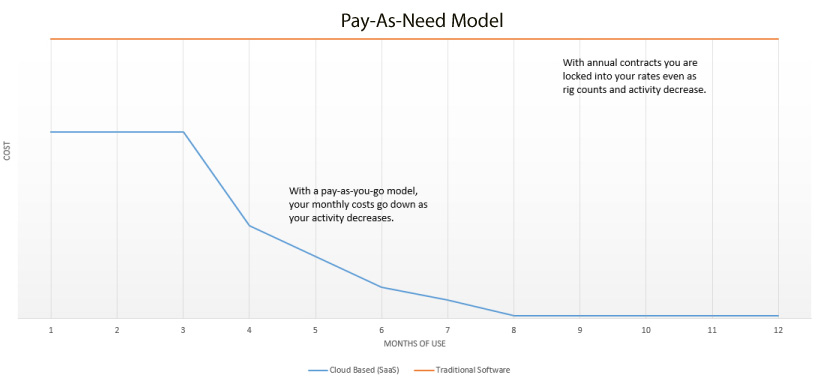 As seen here, cloud-based systems are extremely agile in that when your operations slow down, your costs go down too. The software acts as an operating expense instead of a rigid capital expense. Cloud systems also never come with hidden contracts or fees and can be implemented immediately.
Secure
When running fiscal analysis reports, it's imperative to ensure the system you are using is secure. Without the proper measures in place, your institution runs the risk of facing FDIC fines, loss of revenue, and can ultimately put your bank at risk of going out of business.
Our cloud-based platform is entirely compliant and is certified to control and safeguard all hosted data. There are several levels of security in place to ensure every piece of data is protected.
On-Demand Support
At CLOUDecision, we understand how important it is to get the information you need to make financial decisions quickly. In the event you need assistance with our platform, we offer several levels of support based on your unique needs. Your dedicated account manager is also available to help provide clarity and immediate assistance.
CLOUDecision is at the forefront of providing banks and credit unions of all sizes with these benefits that traditional legacy hardware and software simply cannot provide. To learn more about the different levels of SaaS products and services CLOUDecision has to offer, contact us for a free demo.